---
These dolls are from our personal ball jointed doll collection and are not for sale.
Part of the fun of ball jointed doll collecting is sharing what you do with them with other fans. This gallery is dedicated to BJD characters who play a particular role in our stories.
The photo story below is a throwback to when we (my mother and I) first started collecting ball jointed dolls, this was probably somewhere in 2007.
We sure did have fun, although we weren't the most gifted photographers or customizers.
It was a very regular day in Nariko and Takahiro's room (although somewhat overcrowded)…
When Bran noticed something out of the ordinary.
He knew immediately what was going on when he opened the door.
Bran exclaimed…
The kids were a little upset, Kaida tried to hide behind the couch, next to Angel to protect her. Body-less vampire children's heads can have that effect…
When they calmed down, they hid behind Bran to inspect the newcomers.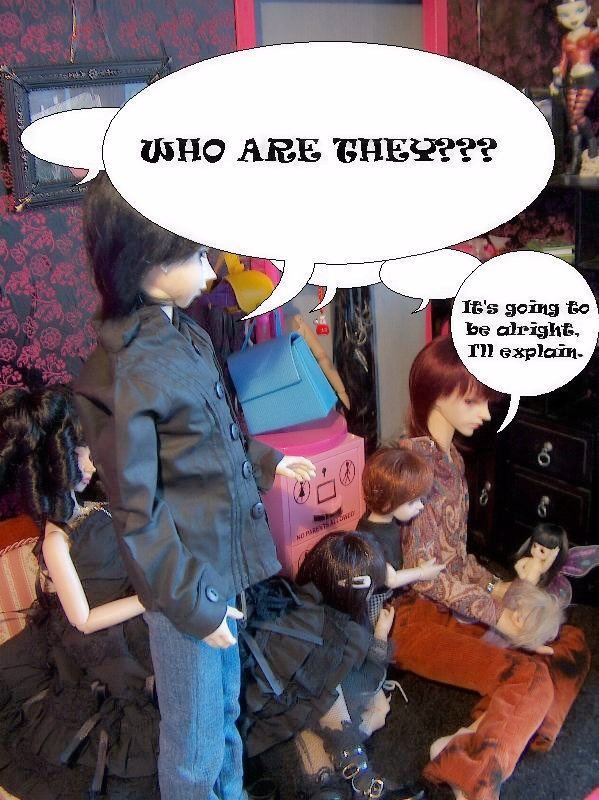 And Bran explained:
Nixie and Daray come from his homeworld. The bright light they saw was a vortex to travel between the dimensions. Daray's body was lost in the vortex, because it closed too early (he didn't cast the spell quite correctly, as Nixie later pointed out). In fact, he cast the spell for only one person to go through, but Nixie sneaked in first to be close to Daray ( she has a crush on him ). Daray is lucky he came out at all. He will have to practice on a spell to open the vortex again and retrieve his body.
Daray and Nixie told them all about their mission. Daray was sent to warn Bran for a spy that will sabotage his quest for the sword.
He has also come to aid Bran in retrieving the sword back to their home world. Nixie came along to assist Daray, because she is smitten with him (they are much older than they look).
And so ended this vortex-action filled day. Bran and his friends sat chatting all night. It was getting late for the twins, so they put them to bed and Nariko and Takahiro didn't wait up all night for them to finish talking. Maybe they should have…
---
Nariko is an Angelregion Fair Diana, Takahiro is an Angelregion Fair Kai, Ryu and Kaida are Dollzone Ani, Daray is a DD-Anne Fairygarden tiny Near, Nixie is a DD-Anne Fairygarden tiny Lii, Bran is a Dollzone Wing ball jointed doll ( BJD ). You can learn more about them, by visiting their profile pages: